New Yorkers take their coffee seriously!
New Yorkers, like most Americans, love to have a coffee, or, as they call them, a cup of 'Joe'. Famous coffee shop brands are located at each corner of the city. It is true that once in New York you don't go looking for such common product, but instead seek typical New Yorkers café where you can enjoy a cup of coffee with calm and recover from a shopping spree or during a break time.
Alice's Tea Cup
Alice's Tea Cup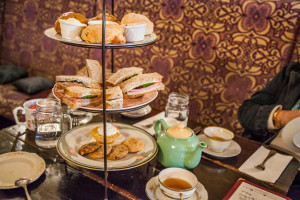 is an elegant tea room in Manhattan, which seems to come straight from the famous tale of Alice in Wonderland. This family-run establishment offers a special menu of the children, called wee tea, proposed along with a variety of small butter croissant with custard, jam and sandwiches. Adults can choose between different types of tea from all over the world, served hot or freezing, according to taste. Alice's Tea Cup is located in 3 different sites in New York City.
Address: 102 West 73rd Street
M.Rohr's
If you prefer a place where can take in addition to tea and coffee a delicious hot chocolate too, you'll have to go to the oldest coffee house in New York, opened in 1896 by Mary Rohr. The cafeteria is named after its founder and has a shabby chic decor with antique furniture and many items from the past of the city. At M.Rohr's bar are available different varieties of traditional coffees, in addition to the exotic qualities. The hot chocolate accompanied by a slice of chocolate cake is an excellent cure for mood! For sale here also assorted pastries, traditional Mexican cookies and tons of tea and coffee.
Address: 344 East 84th Street
Buttercup Bake Shop
A trip to New York is not complete without tasting the typical New York dessert, a delicious candy covered with colored icing. Although there are several places in New York where buying this traditional dessert, the best is undoubtedly Buttercup Bake Shop, with headquarters in New York: East Side and West Side. One of the most famous pastry shops in New York, Buttercup Bake Shop is ideal for a coffee break. Between all the cakes sold in this ancient bakery, New Yorkers seem to prefer the Red Velvet cup cake. In addition to the traditional colorful sweets, you can buy traditional American cakes and other delicious pastries.
Address: 141 West 72nd Street 973 2nd Avenue (51st and 52nd Streets)
Tisserie
If you are dying to have a coffee with a slice of cake and you stay in the middle of New York, in the Union Square area, go to the new Venezuelan pastry called Tisserie.
Address: 857 Broadway
Café Angelique
Café Angelique i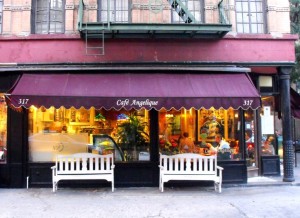 s located in the fashionable West Village neighborhood and is another cult place in New York to have a coffee. They serve here various types of coffee and tea in a very lively atmosphere. In this café decorated with French style, you can choose from various croissants, muffins and desserts, as well as different types of milk, tea and coffee.
Address: 68 Bleecker Street
An afternoon break in one of these New York cafe is an experience not to be missed during your next trip to New York!
---
You might also like